This past school year was my first year with a class of my very own and throughout the year I discovered many things that I knew I wanted to try/do differently next year, so Ms. M's linky party 4 on the 4th is perfect for me to get some of this ideas together! Join in the fun at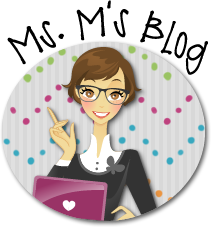 1. Backwards Design - A representative from our school visited the last day of school to present some changes that will go into effect this coming school year. While we've always been required to turn in weekly lesson plans, we will now be required to use the backwards design model when doing so. What I recall of backwards design lessons in college, were single lessons that were pages and pages long. I know this would not be an efficient way to plan weekly for my class, so I am looking forward to seeing exactly how this may work.
2. Math and Science Notebooks - Every time we had a great science or math lesson, I wished the kids had somewhere they could share their thinking/record their data. Loose papers that were easily crumpled, lost, or thrown away did not really show them how important their thinking is. So instead, I have begun compiling some prompts/data recording sheets that I will photocopy and bind for each student so they have a special place to organize their thinking and record what they have learned from hands on experiences.
3. Author Study - Read alouds are an integral part of my classroom (with several happening throughout each day) and while we frequently talk about the author and their job in creating the book, I'd like to do monthly Author Studies. The children loved our Dr. Suess study in March and continued throughout the year to point out similarities between Dr. Suess stories they were familiar with, some of his other works, and books by other authors.
4. Portfolios - I think that children should be able to keep track of their own learning (they are so proud of themselves once they realize how far they've come) but it's a difficult task to let small children assess themselves. So this year, instead of keeping work samples in my filing cabinet, I will use a half inch binder as a portfolio for each child. By keeping the portfolios somewhere where they are accessible to the children, they will have the chance to see what they have accomplished so far and what they can work on mastering next. I think this can be a great motivator for them! I can just see a couple of my little ones that will be returning to me as 4 year olds this year eager to fill up their portfolio pages!
I could go on and on about new things I want to do, but I'll stop there as it's already not the 4th here anymore :)